At Vitality Chiropractic and Wellness Center, we take great pride in providing the finest chiropractic wellness care to our patients. Below is a sampling of the different chiropractic services we offer in our St. Petersburg office.
---
Chiropractic Spinal Correction
We teach our patients special "blueprint" exercises designed just for them to help strengthen and correct their own unique problem. These exercises can be performed in the comfort of your own home and can improve the effectiveness of your spinal correction by as much as 30-40%. In addition to skeletal misalignment, muscles and connective tissues can be out of place or strained by improper alignment and use. Specific exercises and stretches can help your body stay in balance and in health.
_____________________________________________________________________________________
Spinal Decompression
DTS is the leading non-surgical treatment for pain related to spinal disc disorders of the lumbar and cervical spine. Spinal Decompression Therapy involves stretching the spine, using a traction table or similar motorized device, with the goal of relieving lower back pain, leg pain, or neck pain.
---
Cold Laser Therapy
https://www.erchonia.com/blog-news/alternative-treatments-for-chronic-back-pain/
Low level laser therapy is a painless, sterile, non-invasive, drug-free treatment which is used to treat a variety of pain syndromes, injuries., wounds, fractures, neurological conditions and pathologies. Laser therapy can be used any time a patient requests or needs a drugless procedure for the control of pain, when conventional therapies have been ineffective, or when the acceleration of healing from injuries is desired. The laser is set at 635 nm, at the optimal wavelength for healing.
The theory for the creation of laser light was proposed by Albert Einstein in 1917, but was not developed until 1960. It was in the late 1960's that Professor Endre Mester of Budapest, Hungary, first reported his experience using laser light to treat non-healing wounds and ulcers in diabetic patients. Mester's 70% success rate in treating these wounds lead to the development of the science of what he called "laser biostimulation".
Around the world, laser therapy is rapidly becoming a medical therapy that can heal wounds and fractures up to 60% faster and also reduce the cost of treatment for many conditions. In the U.K., low level laser therapy has become the treatment of choice for soft tissue "whiplash" injuries and for the treatment of painful post-herpetic neuralgia (shingles pain).
For more information please visit: https://www.erchonia.com/
_______________________________________________________________________________________________________________________
Zerona 6 Fat Loss Laser
https://www.youtube.com/watch?v=vp2Zpu7ntVU
Vitality Chiropractic and Wellness Center offers the Zerona Z6 laser which is a full body fat loss treatment that allows clients to target areas of stubborn fat, and is the first laser specifically designed for body contouring. The Zerona Z6 is FDA Market-Cleared, non-invasive and clinically tested. Applied externally, the laser targets excess fat by emulsifying fatty tissue through the use of cold laser technology developed by Erchonia. It provides an alternative fat loss treatment without the adverse side effects associated with surgical and other weight loss procedures like liposuction, cryolipolysis and body wraps.
For more information please visit :https://www.myzerona.com/
---
Nutritional Counseling
We provide specific recommendations on nutritional supplements and healthy food choices to enhance our patient´s return to optimal health. Do you know which supplements and vitamins are good for you Dr. Wyckoff can provide a structured nutritional program based on your individual needs.
---
Ionic Foot Bath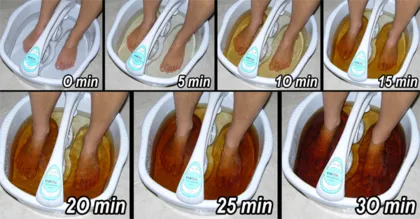 The EB 305 Energy Balancer was designed and developed to restore the body's energy and balance while facilitating and aiding in its natural detoxification process. This device has been proven in clinical trials to balance and restore the body's Ph and electromagnetic energy.

How does it work? The EB uses direct current similar to that of the human body to create an ionic field. The patient places their feet in the warm water to receive the flow of ions which increases cellular function. Studies have shown that more cellular ATP is produced during treatment which enhances the cells to work and detoxify at a higher rate.

You may benefit from the EB 305 if you suffer from:
arthritis
allergies
chronic pain
multiple chemical sensitivities
autoimmune diseases
edema
inflammation